Sapporo Genghis Khan (grilled lamp)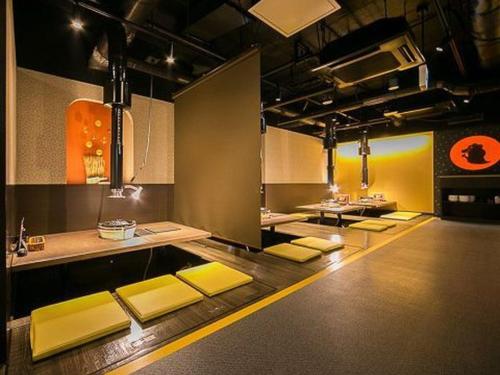 Genghis Khan is a Japanese grilled lamb dish prepared on a metal grill.
There are many famous Genghis Khan Restaurants in Sapporo so for those who are new to the city, it is hard to know which one to go to. Therefore, in this blog we would like to give you our top recommendation: Yozora no Jingisu Kan (夜空のジンギスカン).
There are 4 different branches of this restaurant in Susukino:
1. Yozora no Jingisu Kan Honten (夜空のジンギスカン本店).
2. Yozora no Ajitsuke Jingisu Kan (夜空の味漬けジンギスカン).
3. Yozora no Jingisu Kan Susukino Kousaten Mae
(夜空のジンギスカン すすきの交差点前).
4. Yozora no Jingisu Kan 45 Ten (夜空のジンギスカン 45店).
Yozora means night sky in Japanese, the restaurant name implies that you can eat Genghis Khan Lamb while watching the Susukino night view from the window of the restaurant. The Hokkaido produced lamb has a light taste and is very soft so you can eat lots and lots! They also have freshly prepared venison on the menu (another delicious famous food in Hokkaido).
Although all four branches of Yozora no Jingisu Kan are fantastic places to eat, we would especially recommend number 4 (Yozora no Jingisu Kan 45 Ten). The reasons for this are listed below:
- There is no smoke from the lamb grill
- Your clothes will therefore be fairly odorless
- It has a nice simple but modern interior
- It is a big restaurant so the chairs around you are not too close
This restaurant also has sofas as well as Horigotatsu (掘りごたつ) which is a table on tatami mats but there is a sunken space underneath the table for your legs so it is much more comfortable to sit in than a regular tatami room.
Furthermore, these for restaurants are all within a 1 minute walk of each other and therefore if for example, one restaurant is fully booked, you can easily eat at one of the other three.
While visiting Sapporo in the winter you should definitely visit Yozora no Jingisu Kan and enjoy the taste of Hokkaido!
Access
Yozora no Jingisu Kan 45 Ten (夜空のジンギスカン 45店)

Address: Sapporo-Shi, Chuo-Ku, Minami 4 Jo, Nishi 5 Chome, Sapporo 45 Building 4F

6 minute walk from our hotel

1 minute walk from Susukino Station



Yozora no Jingisu Kan Honten (夜空のジンギスカン本店)

Address: Sapporo-Shi, Chuo-Ku, Minami 4 Jo, Nishi 4 Chome, MY Plaza Building 10F

7 minute walk from our hotel

1 minute walk from Susukino Station



Yozora no Ajitsuke Jingisu Kan (夜空の味漬けジンギスカン)

Address: Sapporo-Shi, Chuo-Ku, Minami 4 Jo, Nishi 4 Chome, MY Plaza Building 9F

Yozora no Jingisu Kan Susukino Kousaten Mae



(夜空のジンギスカン すすきの交差点前)

Address: Sapporo-Shi, Chuo-Ku, Minami 4 Jo, Nishi 4 Chome, 4-46-1-3 Keiai Building 5F

7 minute walk from our hotel

30 seconds walk from Susukino Station

These four restaurants all open from 17:00~01:00