Sapporo TV Tower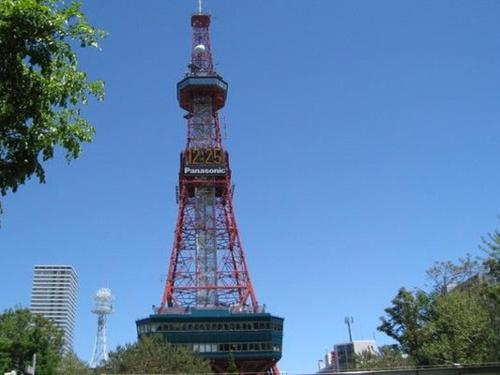 November is that time of year when Hokkaido changes into an island of winter scenery. The weather is about to get very very cold so please make sure to keep warm!
Today's blog would like to introduce Sapporo's famous TV Tower, which stands to the east side of Odori Park. At around 90m tall, one can see a great 360° panoramic view of Sapporo from the observatory at the top of the tower.
Not many people know, but you can actually reserve the entire observatory for 30 minutes after closing time (limited to one reservation per day). The staff kindly provide bottled wine and you can even light up the entire TV Tower with the color of your choice.
We highly recommend visiting the TV Tower during the Sapporo White Illumination period which starts in Odori Park from 18th November.
One can reserve the observatory in the summer from 22:50~23:20 or in the winter from 21:50~22:20 and is perfect for creating special memories.
Location: Odori Park 1 Chome (far east side of the park). The TV Tower can be reached in 5 minutes walk from exit 27 at Odori park subway station.
Price: Adults 720 JPY
Ages 16-18, 600 JPY
Ages 13-15, 400 JPY
Ages 6-12, 300 JPY
There is also a group discount when travelling in a group of 15 or more people.
You can rent the entire observatory for 10,000 JPY