The Sapporo Floral Clock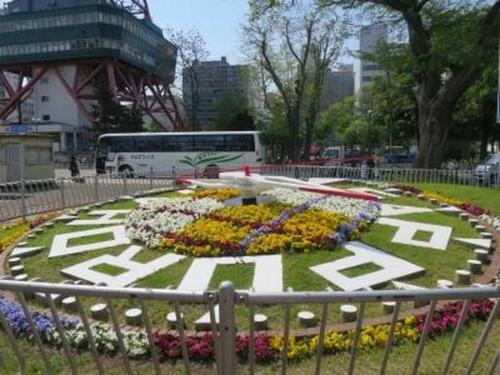 The Sapporo Floral Clock Re-Opens!
One of Sapporo's famous meeting places, the floral clock is re-opening in front of Sapporo city meeting hall!
The floral clock is approximately 7 meters and stands on top of a mounted platform. Because of the heavy snowfall in the winter, it is closed so that it does not get damaged. Surrounding the clock are roughly 2,800 vividly colored pansy and viola flowers! Above the flowers, the hour hand measures 3.3 meters and the minute hand measures 2.5 meters. You will be surprised at the clock's size!
It is the season for meeting friends and going sightseeing, so you should definitely go see the floral clock. Viewing the clock from the Sapporo TV Tower is our recommendation!
Access
From the hotel, go to Susukino Station and take the Nanbokusen line to Asabu. After getting off at Odori station, find exit no. 31 and take the stairs to the surface. You should be across the street from the radio tower. The floral clock is in the plaza space next to the subway exit.