Ume Matsuri
The long winter of Hokkaido is over and the short spring has finally arrived!
This time, we would like to introduce the (Ume Matsuri – Plum Blossom Festival) which takes place in Hiraoka Park in Sapporo.
Hiraoka Park is home to many plum trees where many fans visit the park every year to walk along is well-maintained pathways and see the plum blossoms. The Ume Matsuri is the best time of the year to view these plum blossoms. Within Hiraoka Park, there are 1200 plum trees which are a cross fertilization of apricot and plum tree species. These trees are strong and can withstand the coldness and heavy snowfall of the Hokkaido winter. The ratio of red to white flower plum trees is approximately 4 to 6; these colours create a beautiful vivid contrast against the green grass and blue spring sky. The plum trees also bear fruit which are given away on a first-come-first-served basis.
There is also a store called 'Hiraoka Ume Honpo' which opens from 9am to 4:30pm. It serves plum flavoured delicacies such as plum ice cream and plum doughnuts.
The best time to view the plum blossoms in Hiraoka Park is the last two weeks of May however please make sure to check information regarding the blooming of the flowers before travelling. Cherry blossoms are great to view but it's good to occasionally view the plum blossoms as well!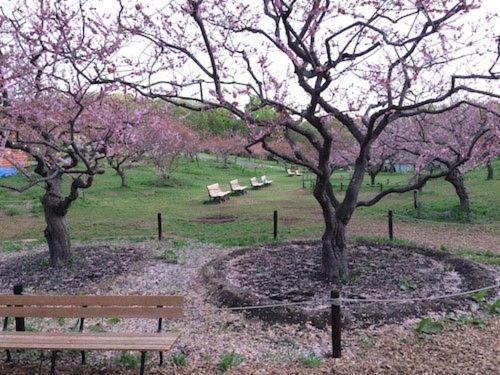 Access
From Shin Sapporo Station on the JR Line and the Subway Tozai Line, take the Chuo Bus or JR Hokkaido Bus (Shin 111) and get off at "Hiraoka Roku Jo Yonchome" bus stop, walk 5 minutes.
Hiraoka Park can be reached by car from Sapporo in 10 minutes and has free parking.
Address: Hiraoka-koen 1-1, Kiyota-ku, Sapporo